Understanding Well-Being Travel
by Samantha Lippiatt
Travel focused on well-being, called Wellness Tourism is where the tourism industry and the wellness industry connect. Holistic and preventative health care measures are increasingly at the centre of consumer decision-making, and travelers expect to continue their healthy lifestyles and wellness routines even when they are away from home.
The Global Wellness Institute estimated that wellness tourism was a $639 billion global market in 2017, growing at more than twice the rate of general tourism and it is likely to be further fuelled by the focus onto personal health during the current COVID-19 pandemic.
The Global Wellness Institute defines wellness tourism as travel associated with the pursuit of maintaining or enhancing one's personal wellbeing. With so much unwellness embedded in today's busy lifestyles and regular travel, wellness tourism brings the promise of combating those negative qualities and turning travel into an opportunity to maintain and improve our overall health.
Dedicated health retreats or bespoke wellness vacations, particularly those focused on weight-loss, yoga, fitness, and detox are among the most sought-after wellness experiences in the US. Research from the Global Wellness Institute also shows the average wellness tourist spends 53% more than the typical international tourist. Many wellness travelers are intent on reaching a personal goal or outcome during their healthy vacation.
Wellness Tourism is not to be confused with medical tourism and it is not all about green juices and hard-core boot-camps, instead wellness vacations are focused on nourishment, movement, relaxation and rejuvenation - the type of vacation where you return feeling like you have taken time out and return with a renewed source of energy and vitality.
There are two types of wellness travelers, as defined by the Global Wellness Institute. Known as primary and secondary, importantly both can be done by the same person on different trips, and these two types of wellness travel reinforce one another. Over time, some secondary wellness travelers will decide to take a primary wellness trip, as their interest in and experience with wellness grows.
For example, a person who visits a day spa for a massage or alternate therapies to relax during a family vacation (secondary wellness travel) may later be motivated to plan a retreat to focus on improving their emotional resilience staying at a dedicated wellness retreat (primary wellness travel).
Many guests will travel solo during their initial primary trip and later return taking along a friend, or partner to share the experience with them. This style of travel is very safe as well, and perfect for some self-care time. It is also heavily skewed towards female participants, however this is changing over time.
Many retreats feature structured itineraries, to ensure guests benefit from the effects of focused activities and treatments, however there are also many that can be designed day-by-day to suit your clients. See below for an example of a typical day on retreat.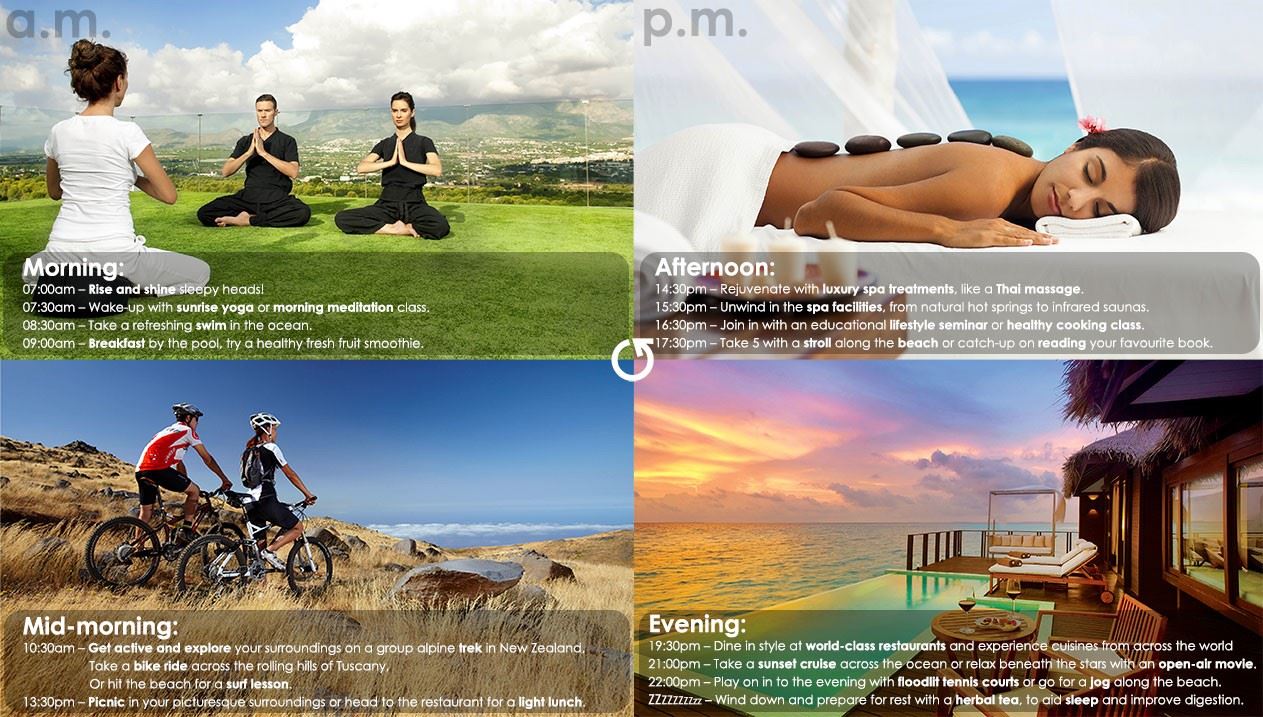 Five Nearby Wellness Retreats to review for your client's next wellness vacation
Contributor:
Samantha Lippiatt is an entrepreneur, lifestyle by design advocate and co-founder of dedicated wellness travel company Health and Fitness Travel, which assists travelers from all over the world. Samantha has an unbridled enthusiasm for all things travel, health and fitness and is committed to providing healthy vacations that improve lives.
Learn more about Samantha here.