Welcome to Well-Being Travel News!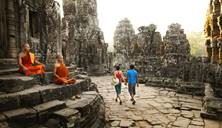 The place to be to find everything you need to know about the art of helping grow your Well-Being Travel business. This site is exclusively for travel professionals, looking out for their client's best interests in terms of health, wellness, sustainability and safety, throughout the customer journey.
We firmly believe that a growing number of travelers are looking for safe, healthy, and meaningful travel options. In fact, one of the long term impacts of the Covid 19 virus will be a much higher regard for personal safety. It will become the Travel advisors role to navigate that distinction in ways never never even considered before.
Our goal is to connect you to the right products, information and services to help your business thrive.