What Did 2021 Teach Us About Wellness Travel?
by Jackie Roby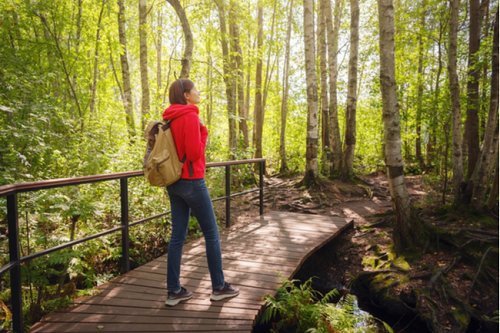 What did 2021 teach us about wellness travel? The Global Wellness Institute released 13 trends that can guide the travel community for future bookings. Below are all of the trends with further highlights on how to apply these to your travel business.
Trend 1: Country Led Wellness Development
The phrase "put your money where your mouth is" came about in the 1930s to emphasize action. It still rings true and is manifesting in countries investing in wellness that benefits travelers and locals.
Trend 2: Regenerative Travel
Travel is moving past sustainability to regeneration. Eco-friendly practices are not an option. At this point, they're considered mandatory by wellness travelers. The next step is leaving the destination better than how you found it. As this space in travel continues to emerge, consider utilizing Regenerative Travel as a guide (they also have a resort collection) and The Transformational Travel Council to further your education.
Trend 3: Rehab to Restoration Programs
Supporting mental wellness, burnout, stress, and anxiety are on the rise. We can all relate to this. Familiarize yourself with the symptoms of burnout to listen for this while talking to your clients. Refer back to the articles Mental Wellness and The Burnout is Real.
Trend 4: Insurance and Businesses Support Wellness
With more money being allocated to wellness, business and leisure travelers will have financial support investing in their wellbeing. Travel managers are also prioritizing wellness initiatives when sourcing hotels for their preferred programs. Have you talked to your business travel clients about including wellness on their trips?
Trend 5: Wellness Snacking
Travelers are now looking to incorporate wellness into short stays, not just lengthy programming. This provides a space for encouraging staycations, road trips, and adding treatments during business travel.
Trend 6: Natural Plant Medicine Programs
Once again supporting our mental wellness, natural modalities like CBD, ayahuasca, and psychedelics are increasing in popularity. This has been extensively written about in Forbes as a habit of the wealthy. It could be an idea for a leadership retreat.
Trend 7: Fertility Retreats
Women are looking for support and natural ways to help them on this journey. Keep this in mind should this conversation happen naturally. Did you know it was available?
Trend 8: Wellness Practitioner Training Moves Online
This isn't an opportunity for travel, so let's save time and keep going.
Trend 9: New Wellness Lifestyle Programs
While wellness travel has been delivering ways to teach habits to take home for quite some time, now there are programs dedicated to this purpose. The Pathways at Canyon Ranch Tucson and Lenox is a good example. For the traveler interested in a private island, AERIAL BVI offers a bespoke experience where the wellness director provides tools to take home like customized meditations.
Trend 10: Medical Welcomes Wellness
Hospitals are integrating more wellness modalities, which may naturally boost interest for skeptics (making the job of the wellness travel advisor that much easier).
Trend 11: Embracing Indigenous Wellness Traditions
Wellness is a beautiful way to experience local culture and honor the traditions of indigenous people. One&Only Mandarina brings the teachings of the Huichole tribe into their modalities and rituals. In fact, the therapists will all be trained by a shaman raised by the Huichol. For more inspiration, go to the article on Cultural Immersion Through Wellness.
Trend 12: Outdoor Physical Fitness Boom
We spent quite a bit of time indoors and learned quickly how much being outside supports our well-being. Being in nature continues to be a desire along with trips focused on outdoor activities. Our discussion on Mindful Movement will outline retreats, running clubs, and specialties to choose from.
Trend 13: Animals Support Wellness Travel
Animals have proven to be helpful with emotional support as well as decreasing cortisol levels and lowering blood pressure. Their place in wellness travel can look like equine therapy or goat yoga. Clients interested in a Tuscan getaway can visit Dojo Bianco where they specialize in equine therapy (be mindful of dates as it's a seasonal resort).
GWI research shows that even during the height of the pandemic in 2020, there were still 600.8 million wellness trips taken across the globe (124.8 million in North America). This niche is projected to increase 20.9% by 2025 resulting in $1,127.6 billion in revenue. The opportunity for travel advisors is ever-present.
Contributor:
Jackie Roby is Chief Excellence Officer at Inspired Journey Consulting. She is a sales solution strategist & brand ambassador for healing & wellness resorts; helping clients stand out as authentic wellness to reach their ideal guests. She is a DEI advocate, host of the podcast Through Inspired Eyes, & brings 19 years of travel & hospitality sales experience. Jackie coaches travel designers to attract the wellness traveler with creative approaches that are authentic and communicate the magic of their missions. Through a message of #TravelCanHeal, IJC's vision is to create a world where marginalized people feel empowered to be their authentic selves, where traveling is a tool for inclusion, & to grow emotional intelligence, healing, & self-care for a kinder humanity.